Would you like to print form entries submitted by users? For many, it's helpful to have physical copies of form entries for administrative purposes. In this tutorial, we'll show you how to print entries in WPForms.
---
Print Individual Entries
To access an individual entry, you'll need to navigate to the Entries page in the WordPress admin area. Next, in the Actions column, look for the View option and click on it.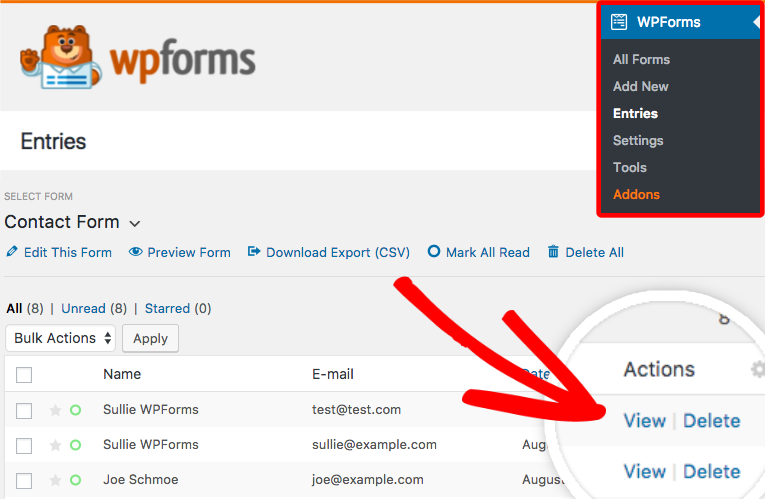 This will bring you the individual entry page. In the Actions box on the right, you'll see the Print option .
Once you've clicked on the Print option, you'll be directed to a print preview page for the entry. Here you can review the entry, and if you'd like to, you can choose compact printing options. Once you're ready, click on the Print button.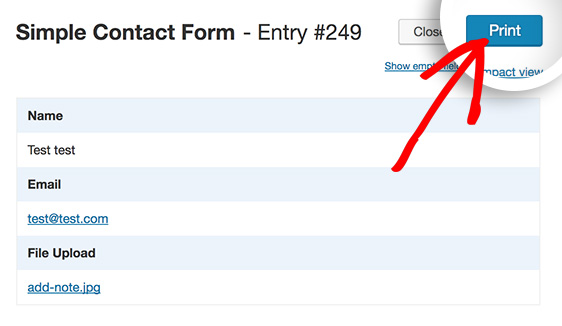 Compact Printing Options
In some cases, you might want to make an entry more compact for printing, especially when a form has many fields. We'll show you two ways you can do this in the print preview page: Hide empty fields and Compact view in the top-right corner of the print preview page.

Hide empty fields
By default, fields that do not have user input are already hidden in the print preview page, so you'll see a Show empty fields option. However, if the empty fields are showing and you'd like to hide them, you can click on the Hide empty fields option.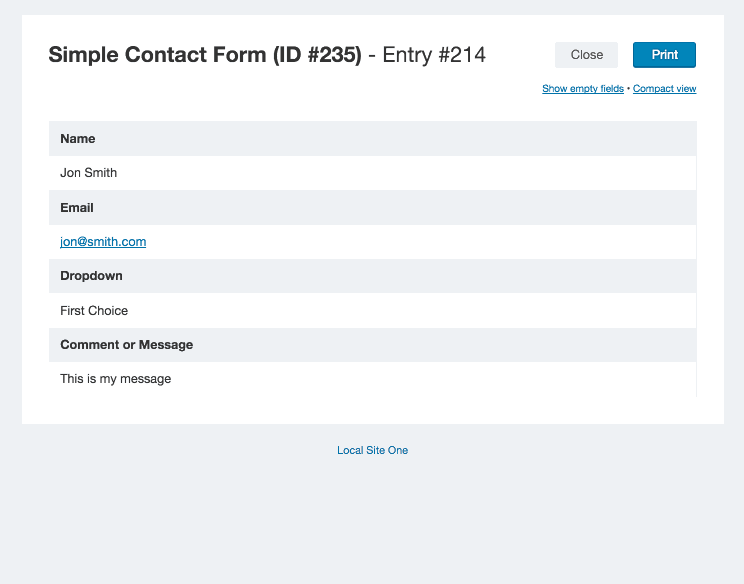 Compact view
Another option to reduce the size of the entry is to click on the Compact Viewoption at the top-right corner of the page. Here's how the print preview page look when Compact View is selected:

Once you are satisfied with how the individual entry look in the print preview page, you can click on Print to complete the process.
That's it! You've seen how to print form entries from your WordPress admin area.
An alternative way to print entries would be to save them as a CSV that can be opened with a spreadsheet program. If you'd like to know how to do this, be sure to check out our tutorial on how to export form entries as CSV.